USSD is one of the more inclusive mobile technologies available, that allows quick two-way communication between user and client via interactive menu systems. Moreover, it is not device dependent and no application software download is necessary. USSD applications run on the mobile networks, not on a user's phone.
Some of the most common uses is checking on airtime or data balance inquiry. This has evolved over the years, as developers have gone beyond the original use cases and are now using USSD in a variety of applications.
Surveys: use in the collecting customer feedback.
Voting: for voting in real-time.
Product Promotion: communicate special product offers, send discount vouchers.
Competitions: create engaging entry pages, competition info.
Financial Services: e.g. Insurance, mobile banking.
Utility Services: for bill query and payment purposes.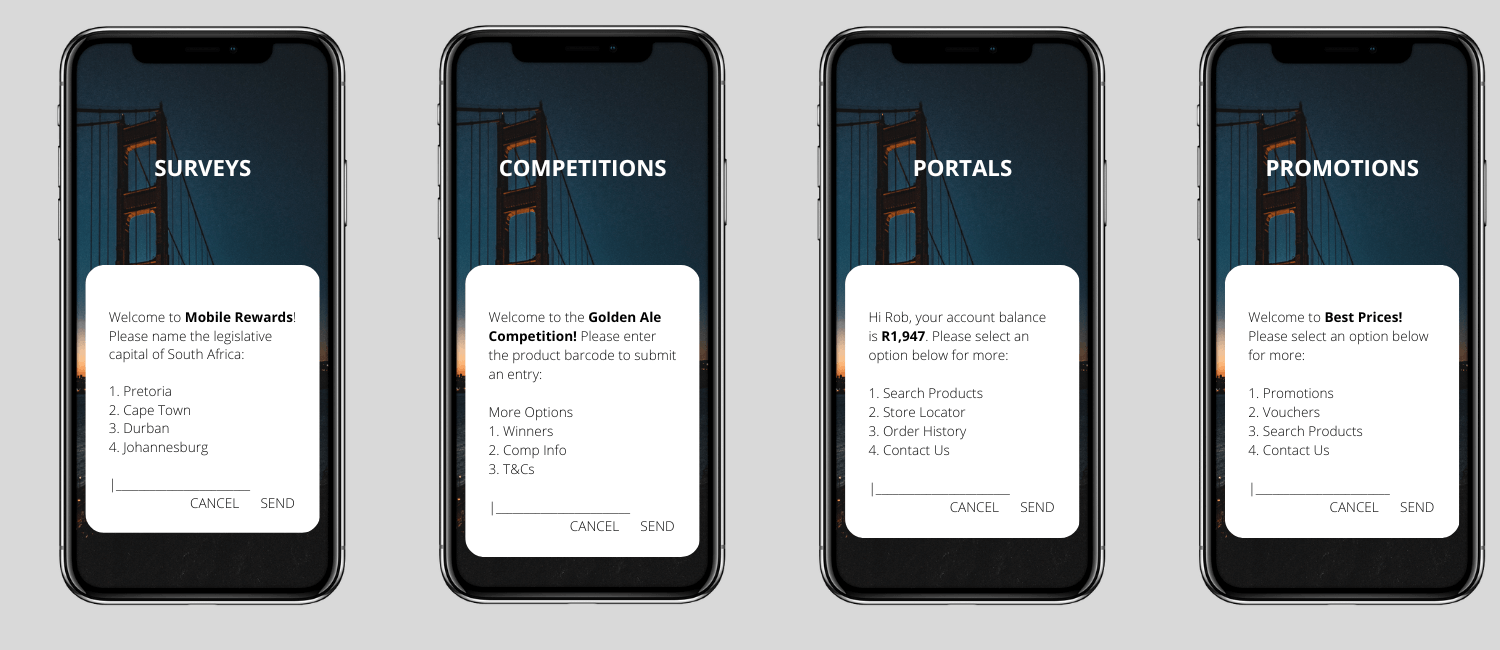 Benefits
USSD applications comes with numerous advantages as a business and marketing tool.
USSD does not require internet connection or data to work.
It is user friendly and can be used by anyone.
USSD works on all GSM-standard phones, meaning you are guaranteed to reach more people.
Works across all networks.
USSD is interactive; users can quickly see responses.
It is extremely cost effective to implement and run.
Isn't Text-Based Communication Obsolete?
With the amount of smartphone apps out there, one would think so. However, USSD is one of the few inclusive mobile technologies still available. This makes it a powerful channel in lower LSM markets.
Many companies are pushing forward with digital transformation, and may be mistakenly excluding notable demographic segments of their customer base who don't own smartphones. Businesses are often charmed by the lates smart technologies such as AI or Natural Language processing. However, USSD technology may be more than two decades old, but is certainly not outdated.
It can still be a very valuable revenue driver, enabling you to promote to, and support customers with easy self-service options. Including USSD broadens an organisation's reach and makes good business sense.
Get started with Channel Mobile USSD solutions
USSD continues to be a relevant and important technology. At Channel Mobile, we provide bespoke USSD solutions matching your business needs. To find out more about our USSD solutions, drop us a message via the contact form and we will help you take your business to new heights.
More Info: