Getting started with your application for our WhatsApp Business solution is super simple! Applying for a WhatsApp API account generally involves three steps:
Buy or port a phone number
Verify Facebook Business ID and number, accept messaging permissions
Generate an API Key to connect to a business software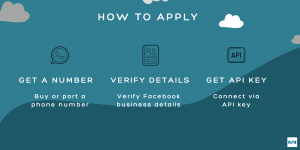 It is important to note, that not everyone can get the WhatsApp Business API. So read on to make sure you have a chance of getting approved; we do not want you to waste your time. All applications need to be approved by WhatsApp before your business can be verified. We'll process the application for you, but it's important to note that we have no control over the approval of your application.
Who Can Get the WhatsApp Business API?
WhatsApp keeps its API closed and does not give access to everyone. The API is opened for medium and large businesses, and it's ultimate purpose is critical to your application success. There are essentially two key factors likely to influence your eligibility:
1. Business Size
WhatsApp API integration is intended for well-established medium and large businesses. If you are an individual entrepreneur or run a small business, you are likely better off using the WhatsApp Business App. Currently the approval for the API integration for small businesses is unfortunately still unlikely. However, it's not impossible to get an API if you are a small business. Your best option is to contact us and we can assist in your application.
2. Industry
WhatsApp will take into careful consideration your business industry, and the types of message content you intend to send. The industry in which you operate is a key factor and will play a significant role in the initial stages of your application.
These are some of the industries presently not allowed on the WhatsApp network:
Drugs – prescription, recreational, or otherwise
Tobacco items and related paraphernalia
Alcohol
Weapons, ammunition, or explosives
Adult products or services
Real money gambling services
Dating services
You can review the WhatsApp Commerce Policy for a complete list of what is allowed and supported on the network. Read through all of WhatsApp's policies, and make sure that your company is complying with these policies.
Our WhatsApp Business solution offers various pricing plans to meet the unique messaging needs of your business. As a WhatsApp partner, we will help you achieve your business aims and make the process as easy as possible for you. We'll keep you updated every step of the way.
Message us via the WhatsApp button on the right, and one of our mobile experts will be in touch.