In today's digital world brands and companies must constantly explore opportunities to improve their customer experience and sustain a competitive advantage. And the WhatsApp Business API is the answer to many corporate communication troubles.
With its vast and highly engaged user base, WhatsApp has become a favourite channel for businesses. Its rich communication capabilities enables them to respond to customer queries and provide support instantly.
An instant messaging application like WhatsApp will have a more significant impact on customer satisfaction – and brands can:
expand their reach
enhance message deliverability rate
have secure conversations with their customers
increase conversions
and achieve other critical business targets
Why businesses should consider using WhatsApp Business for their customer communication
Reinforce Your Brand Identity
WhatsApp provides a secure, personal space to have one-on-one communication. Businesses can market their brand in various ways during their interaction with consumers.
Connect On Their Preferred Channel
To provide superb customer experiences, brands have to be on the channels their customers prefer. And surveys all indicate that the modern customer prefers messaging (vs calling) a business.
Facilitates real-time conversations
Customers prefer real-time conversations, compared to responding to one-way communication messages. Email communications feel disjointed, and waiting days for a reply to (the first of what might be for follow up) queries is not realistic. And it definitely will not reflect positively on customer ratings.
Industries using WhatsApp Business API to boost communication
The WhatsApp Business API has proven to be an effective communication channel for customer engagement, especially for larger organizations that operate to a bigger audience. Here are some common industries that use WhatsApp as one of the primary customer communication channels:
E-commerce
WhatsApp Business API enables E-commerce companies to seamlessly meet the expectations of today's customers. Mapping customers' journey to discover opportunities at each stage, enables them to personalize customer service. Consequently brands can shape a stronger relationship with their customers and provide them with a superior shopping experience.
Tackle customer queries
Responding to masses of customer queries about products and services can be challenging for any customer support team. With the WhatsApp Business API, all these commonly asked user queries can be answered. And your service team can focus on other business-critical duties.
Product Recommendations
Brands can use WhatsApp to help customers pick the perfect products, recommending products based on the customer's search and purchase history.
Delivery Updates
E-commerce companies can share a real-time delivery updates via WhatsApp right up until the order is delivered. Customers can clear up any delivery queries by instantly connecting with your support team.
Healthcare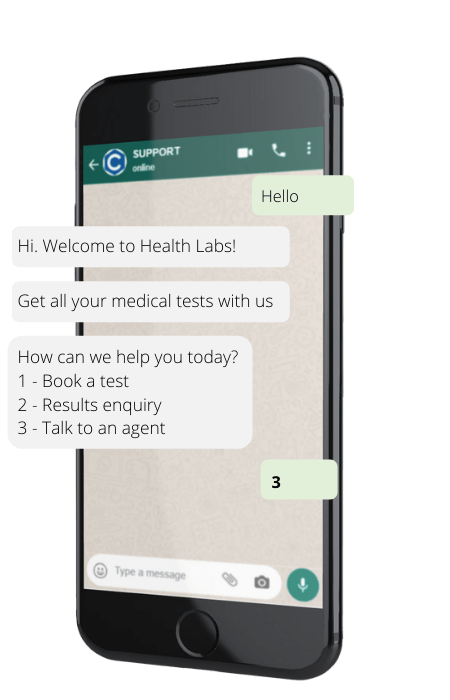 The healthcare sector relies on fast and reliable communication platforms to deliver integrated healthcare messaging and facilitate essential medical requests.
send appointment confirmations and reminders
share medical test reports
send prescription updates
share insurance administration and account balance updates
These personalized communications help healthcare organizations win patients' trust, and form a strong relationship with their them.
Banking and Financial services
The financial services sector is a fiercely competitive one, and is constantly innovating to meet the modern customer expectations. From critical KYC updates, to assisting customers opening accounts, the WhatsApp Business solution can streamline and simplify operations:
transactional alerts
portfolio updates
policy renewal reminders, and more
Including a WhatsApp communication channel allows financial companies to efficiently manage customer conversations. It provides a holistic view of their interactions, and facilitates them to assist customers better.
In summary
Different customers will have different communication preferences, so it is critical organizations employ a multi-channel communication strategy. With so many different touchpoints on the customer's journey, communication needs to enable customers to interact over the channels they prefer.
WhatsApp has become a favourite channel for businesses, with its broad reach, highly engaged user base, and rich communication capabilities. It can strengthen user engagement programmes, and earn customer loyalty – opening up new avenues for businesses to connect with their customers.