The automotive world focuses on providing customers with a gratifying experience, from finding their dream car through to after-sales care. Today's car owner doesn't engage in the conventional showroom experience – they prefer digital interactions, with many buyers likely to purchase their car online often with contactless sales and services.
This is where WhatsApp Business API really shines, as it optimizes customer service and powers better conversations with new and loyal customers alike. Email lacks speed and phone calls lack multimedia capability, whereas WhatsApp enables efficient, personal, innovative messaging. It has built-in secure encryption, which allows GDPR-compliant communication.
How can WhatsApp deliver an automotive solution?
The WhatsApp Business API is more than a chat platform. It has a myriad of features that can extend your business offerings, with many opportunities for innovation in customer service and operations. Customers buy a lot more than just a vehicle; they're after convenience and fun at all stages of the ownership process.

Marketing Features
Digital vehicle brochures
A WhatsApp chatbot can be used to provide potential clients with all the key vehicle information. The chatbot can share information on models, mileage, and financing options without the necessity for human involvement.
Outbound Marketing
Simplify the lead qualification process and improve closing with a contextual history of customer engagements.
Drive owner passion
Loyal brand supporters are passionate and interested in all the latest technology they can find in magazines, auto-shows, and documentaries. With rich-media capabilities, the WhatsApp platform allows sharing of sneak previews and exclusive content with your customers.
Customer Service
Dealership locator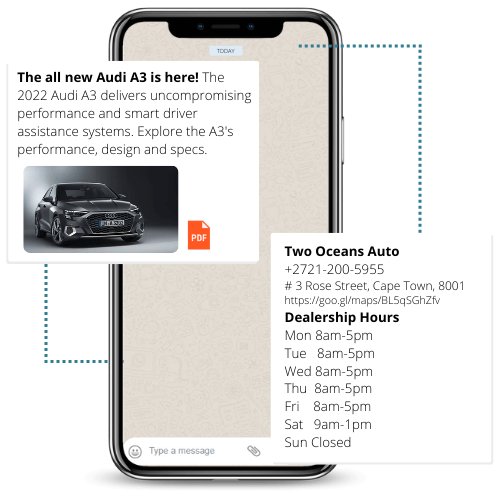 The WhatsApp chatbot can be of immense help when customers wish to find the nearest dealership or service centres. The beauty of the platform is that customers stay in the same conversation – no need to use a separate map service.
Vehicle history
Purchasing a car means looking for tons of information, and it can be difficult for agents to quickly understand those requirements for every prospect. A WhatsApp chatbot can do this effortlessly 24-7, showing car configurations, pricing, and other details to help a prospect reach a buying decision.
Book test drives
The WhatsApp chatbots can schedule appointments, providing customers with available time slots to book test drives.
After-sales service
Personalized communication does not end after you sell a vehicle. Routine service bookings, maintenance or damage repair queries can all be facilitated via the WhatsApp platform.
Automated Reminders
A WhatsApp Business solution offers many opportunities for building loyal customer relationships, by making servicing as simple and convenient as possible. You can notify your customers about upcoming services, maintenance suggestions, check-ups, license renewal reminders.
Appointment reminders: regarding their scheduled test-drive, vehicle check-ups, or license renewals.
Alerts: regarding maintenance services to help owners get timely service done on their cars.
Delivery status: Delivery updates can be sent regarding the purchase of a new car, pick-up time, delivery dates etc
Spare Parts and Accessory Availability
Vehicle owners often have queries about spare parts or other vehicle accessories. An intelligent chatbot can be there to respond to those inquiries, advising them about availability and pricing.
Emergency roadside assistance
Assist customers when they need you most, like in an emergency breakdown – especially in remote locations or on highways. Customers simply send through a message and receive immediate assistance from repair experts.
In a nutshell
By integrating a WhatsApp Business solution into your customer service operations, better customer conversations become the norm. Customers are looking to be thrilled and guided when buying a vehicle, while companies are looking for conversions and efficiency.
WhatsApp is where customers already are, so engaging via familiar platform places companies in front of customers more readily and provides unparalleled service.
Related Posts