Offering customer service via WhatsApp is an important cog of any brand's customer care strategy. Companies can use WhatsApp Business API for everything from simple order updates to individualised personal shopping experiences. People like and trust WhatsApp more than other popular messaging apps; it's the favourite messaging platform across demographics.
Today's customer support teams face new challenges, due to growth or changing needs of modern customers. Growth leads to a welcome increase in customers, but also means a certain surge in customer support enquiries.
Improve customer support with WhatsApp Business API
While businesses vary in size, setup or products – there are some common pain points that many will experience. The key to providing great customer service is having the correct tools and processes in place, combined with intelligent automation.
With a properly designed solution, your business can offer seamless customer service to accelerate query resolution times, reduce support costs, and boost agent productivity.
We look at some of the common challenges faced, and how WhatsApp Business API can help.
#1 – Too many repetitive questions – and answers!
Customers who contact you with their enquiries expect prompt responses.
"Where is my order?"
"What are your business hours?"
"Can I return my order?"
"Where is the closest store?"
These are just some of the common queries, and your live agents often have to spend too much time answering them. It's cost-intensive having agents consistently complete routine tasks, and it makes agents' job feel monotonous.
Solution: Deploy a chatbot on WhatsApp
With a well built chatbot, your customers can answer common questions themselves. This keeps them happier by letting them get answers to their questions faster, while lightening the load on support teams.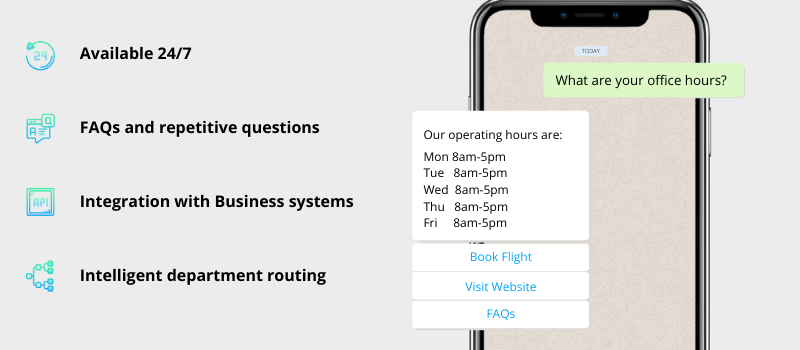 Define the hand-off
Some customer queries may need human agent interaction. This is when your WhatsApp automation can notify a support team member to step in and take the reins. This also ensures a customer's queries do not get stuck in a vicious circle, and get resolved in a timely manner.
With our bespoke AgentChat software, the chat can be routed to a human agent to provide an even more personal touch and be more efficient in resolving queries.
#2 – Complex query routing
Relying on your support team to manually process, prioritize and assign tickets to agents is problematic. Agents require automated assistance to properly manage and respond quickly to incoming queries.
Solution: Automatically route queries to the right agent
Ticket routing is the process of assigning queries to departments, and tickets can be routed on the basis of topic, department, urgency, and several other criteria. Ticket routing systems are generally used to determine the order in which tickets are to be assigned to agents and departments, and which agents they are to be assigned to.
Speed: cases are assigned automatically, so agents don't have to spend time picking their next query.
Balanced workloads: avoid some agents picking only easy tickets and dumping the complex ones.
Increased agent productivity: Agents are assigned tickets that they can handle and resolve, so don't waste time on tickets that they cannot resolve.
Higher customer satisfaction: optimized ticket routing means customers get immediate support, without having to navigate through multiple support agents.
Intelligent ticket routing can be very effective, and provide significant benefits for your customer care strategy.
#3 – Growing call centre costs
Support agents can only tackle one customer issue at a time on the phone, and more calls mean hiring more agents. And high call volumes result in customers waiting on hold a long time, impacting customer experience.
Solution: Deflect expensive voice calls to WhatsApp messaging
Support conversations over messaging apps are more cost-efficient than phone calls and provide a better experience for customers. Agents can handle 4-5 customer conversations concurrently and implementing chat can lead to a 6.8% decrease in average cost per customer contact.
Start offering better, more efficient customer support with Channel Mobile
As a WhatsApp Business Solution Provider, we can help you offer seamless support and send valuable messaging to quickly scale and optimize customer support. Connect with us today, we can't wait to help you get started.
Related Posts