Not long ago, distribution channel programmes entailed considerable investments to administer. As a result, it often meant businesses needed an abundance of customers to substantiate the costs. Factor in the reward costs, and these powerful programmes were often out of reach for many businesses except for the corporate giants.
Enter the WhatsApp Business API. The robust messaging solution provides an opportunity to maintain and deepen relationships with trade partners.
The WhatsApp Business API (WBA) is a great tool for communications, programme administration, rewards, and customer service. Today, trade loyalty programmes are an integral channel market tool that manufacturers and distributors need to: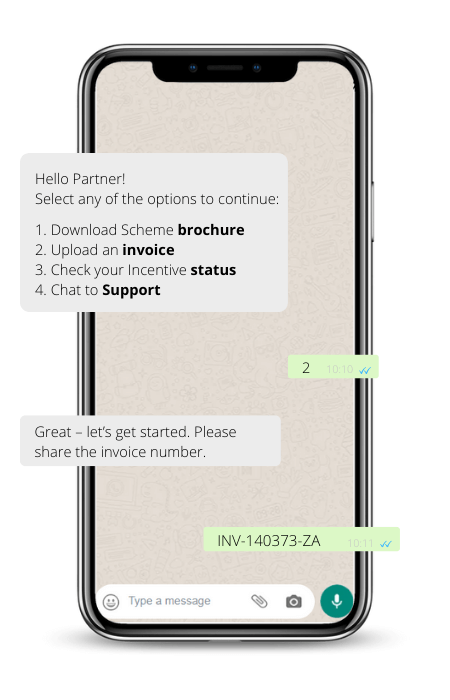 Enhance the value proposition
Improve communication with trade channel partners
Collect better channel data
Create a shared vision for your partnerships and motivate loyalty.
Using WBA helps provide a robust digital ecosystem where channel partners can stay connected to your brand
Improving communication within the channel
To get trade partners invested in your brand and fostering good relationships with them, it is important to combine the value proposition with communications. Communication is a critical component of any channel loyalty programme, as it:
Creates a cohesive and proactive communication strategy; what messages to communicate to your partners and how often communications take place
Partner segmentation – tailor communications based on segmentation to make messages more relevant
Direct communication – in order to build strong partner relationships.
This requires a communication platform that can provide a digital experience, and integrating trade programmes with WBA enables the following touchpoints:
An integrated loyalty programme platform
A mobile app with alerts and notifications
Trade partner survey tools
Incentives for more seamless data exchanges
Online training incentives and partner enablement tools.
This communication all occurs in an environment where partners have the prospect to earn rewards, and significantly improve engagement.
Rich Media
When distributors are out in the field and talking to retailers, the WBA can provide a wealth of information related to any ongoing schemes and products. Distributors can quickly check any information, and answer retailer queries.
Rewards
Distributors' loyalty programmes are often important support systems for businesses. By offering trusted channel partners incentives – whether its rewards points, vouchers, free trips, discounted product prices –businesses can nurture a sense of responsibility in their distributors.
The API simplifies reward calculations in the backend, meaning trade partners can immediately see any scheme achievement during order taking and notifications at various levels of achievements.
Conclusion
Distributors play a vital role in generating business for organizations. Loyalty Programmes for customers are common, but loyalty programmes for distributors is just as important.
Administering a loyalty programme for distributors is a time and capital consuming task. WhatsApp Business API is a great tool to manage communications, rewards, and customer service, to ensure that the programme is executed flawlessly.
Related Posts