Whether you are a real estate agent or property consultant, buying and selling a property can be an agonising process that requires tons of emails, calls, and follow-ups. The real estate process involves persistent communication and so stakeholders need a tool that can help them manage constant customer interactions effortlessly.
With the WhatsApp Business API, you can handle all tedious tasks with ease. WhatsApp chatbots can be used to answer customer queries, generate genuine leads, and book appointments for property visits and related queries. It can be instrumental for realtors wanting to reduce support and lead generation costs.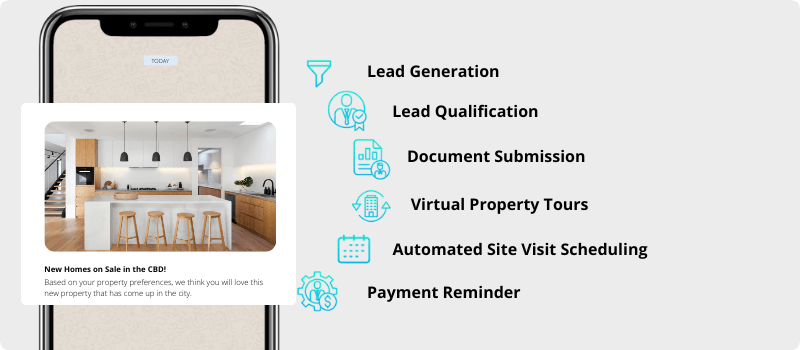 The "Snag List" in the Real Estate Industry
One of the major challenges faced by the real estate sector is ineffective lead communication. Managing time with listings, previous clients, targets – while simultaneously answering queries of potential buyers. Being able to cater to as many leads as possible is critical in the real estate sector, and this is where a WhatsApp chatbot for real estate really shines.
Customers typically have a lot of questions about the property and the surrounding amenities such as where the closest school or veterinary service is. And if they do not get all the required information, they end up knocking on your competitors' door.
Use cases of WhatsApp in Real Estate
Implementing a WhatsApp chatbot designed for real estate provides users with a seamless experience by responding to queries promptly, and at the same time saving resources in the business. A well crafted chatbot can instantly address queries – but a sales agent can also intervene seamlessly to address any more complex queries.
1. Lead Generation
Generating quality leads in the real estate sector can be quite demanding. WhatsApp enables agents to greet visitors, provide details on multiple listings based on budget, geography, and amenities.
A WhatsApp chatbot is an excellent way to connect with customers on a platform they are very familiar and comfortable with. Real estate agents and companies can collect lead details like name, phone number, budget, number of rooms, location, etc. Realtors can easily continue the conversation on the same WhatsApp thread and enhance chances of converting.
2. Lead Qualification
After lead generation, the next key phase is lead qualification. The WhatsApp chatbot can request targeted information that allows easy segmentation of customers; imagine being able to identify high-value customers on whom you can focus!
A conversational chatbot can easily handle multiple customers without having them to wait for a live agent to handle their queries. This level of automation allows real estate organisations to lower operational costs and increase customer satisfaction.
3. Automated Site Visit Scheduling
Once leads have been qualified as potential buyers, customers can easily schedule a site visit via the bot. Coordinating site visits is an important step, and the Whatsapp chatbot eliminates the annoyance of numerous emails and calls to-and-fro. Schedule property visits, and also send reminders on or near the date of the visit.
4. Virtual Property Tours
The WhatsApp chatbot can be used to give leads an engaging virtual tour of the property. This is especially effective to assist foreign or long-distance leads who can see the properties from anywhere around the world. The platform allows you to share rich media in the form of videos, audio, PDF files and images. Realtors can have effective conversations with clients to lead to a sale.
5. Document Submission
Document submission is an onerous process in real estate transactions. With WhatsApp, your agents can easily share important documents such as receipts, agreements, and other relevant documents.
6. Payment Reminder
Customers can be sent reminders for various property related processes such as pending payments, certificates, and maintenance. WhatsApp chatbot templates allows easy API integration with the realtor's ERP system and send automated reminders.
Today's customers expect personalized and convenient customer service from the businesses they interact with. Chatbots have been one of the biggest technology disruptions in the business world recently, especially with the Covid-19 pandemic. With many customer interactions shifting online, organisations had to adapt to the new ways of working to stay afloat. And the real estate sector is no different, as chatbots are revolutionizing the way companies buy, sell, and rent properties.
Related Posts