The use of WhatsApp for both personal and business purposes is growing, as organizations start to appreciate the effectiveness of WhatsApp in their operations.
Shortly after the WhatsApp Business app was released in 2018, Facebook opened access to the WhatsApp API with medium and large business needs in mind. If you're struggling with the differences, keep reading to know which is the right one for you.
WhatsApp Business App vs WhatsApp Business API – what are the differences?
WhatsApp Business App
The WhatsApp Business App is a standalone application for small to medium sized business. It was specifically designed for small businesses to allow people to use two accounts on the same phone. Companies can engage with their customers as they would through the standard WhatsApp app, communicating with customers with no-coding for simple questions, answers, and even orders.

WhatsApp Business API
The WhatsApp Business API was created with the needs of medium to large businesses in mind. The API was launched after WhatsApp realized that businesses with larger teams were unable to leverage the Business app due to the two active sessions limitation.
The WhatsApp Business API allows companies to send larger volumes of requests and integrating with other systems such as customer relationship software. You can automate business processes and customise your business setup.
Using the Business API requires some coding knowledge – but as your official WhatsApp Business Provider – we will assist you every step of the way.
Features of the WhatsApp Business App and the WhatsApp Business API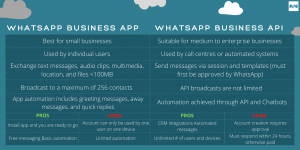 WhatsApp tops the list of messaging apps with over 2 billion monthly active users! Being where your customers are is always good for your business. The app offers a way to interact and engage with customers in a direct, personal, and targeted way.

Key features that make communication easier

Business profile to help customers identify your store
Create a WhatsApp Business profile with the API. You can add details like a business name, description, and website to the business profile, so customers know who they're talking to.

Display business hours so customers know when you're active
Let your customers know when you're available for orders and customer service and when they may have to wait for a response on their query.

Show your product catalogue to make browsing products easier
Set up a product catalogue and allow customers to browse through your products and services. They can directly highlight a product and ask you to place an order for them.

Create chatbots and conversation flows
With the API, set automated welcome and away messages for instant responses to customers. And with many queries and responses being repetitive you can save your common responses and quickly resolve customers' queries.

Benefits of using WhatsApp for customer service and sales
It's no secret that consumers demand efficient service. They want immediacy, customization and an omnichannel service more than ever, and their expectations have never been so high.

Save on customer service costs
Automation via the API will help save on customer service costs by speeding up response times, freeing up agents for more challenging work, and answering up to 80% of routine questions.

Better customer engagement
WhatsApp users are 1.5x more active compared to Facebook messenger. An official business profile provides a trusted channel between companies and users to communicate.
Experience increased opt-ins, as WhatsApp users are more likely to engage and receive updates on their phone.

Faster resolutions, happier customers
Because WhatsApp essentially forces businesses to resolve customer queries within 24 hours, customers receive much faster responses, turning them into repeat customers.

Interactive messages mean better conversions
WhatsApp displays a higher message-to-conversation ratio than other mediums due to the activity levels of its users. Put the power in the customer's hand, and allow them start – and pause – interactions.
As consumers' behaviours and preferences evolve, it's vital that companies do the same. Using WhatsApp for customer service allows to scale communications, and fuel engagement. Providing personalized customer leads to a better experience, and increased loyalty.
Leave your competition behind and be among the first businesses to support their customers on WhatsApp. We're looking forward to hearing from you and getting you started with the WhatsApp Business API!