The global chatbot market showed strong growth in recent years; changing and improving the ways companies reach and communicate with consumers. Best practices in customer experience (CX) are rapidly changing, as applications of AI are introduced into a company's technology and platforms. Looking forward, the market is forecast to grow annually at around 25% during 2021-2026.
A Changing Landscape
The last few years have transformed the future of the eCommerce sector as we know it. The adoption of chatbots has been steadily on the rise for some time now – helping businesses increase conversions and sales, and also improve the customer experience. The rapid digitization across industries and the need for superior customer care service in organizations are among the key factors driving the growth of the market.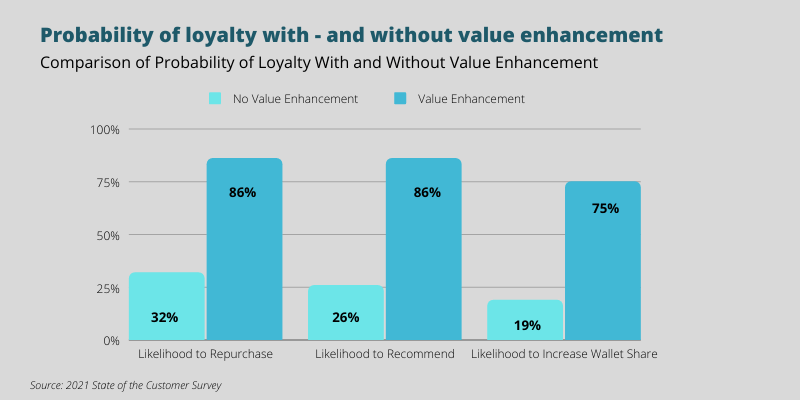 "When we analysed customer responses after service interactions, some customers reported that they were not only less likely to show disloyalty toward the company, but more likely to advocate, renew and spend more."
 ~ Gartner 2021 State of the Customer Survey
What is the future of chatbots?
A recent Juniper Research study has found that the number of chatbot messaging apps accessed globally will increase from 3.5 billion in 2022 to 9.5 billion by 2026. The Covid pandemic was a pivotal moment for many businesses, as consumers adopted online shopping and transactions. The popularity of chatbots increased significantly with rapid improvements in key technologies such as predictive analytics, machine learning and cloud computing. And other factors, such as advances in the field of natural language processing (NLP), are anticipated to drive growth in the market.
Key Stats
Global conversational AI market is expected to grow from $4.8 billion in 2020 to $13.9 billion by 2025, at a CAGR of 21.9% [Markets and Markets]
89% of organizations stated that they need to evolve their digital commerce capabilities [Gartner]
People aged 18-34 are twice as open to communicating with a personal chatbot as an assistant when shopping, compared to other age groups. [Facebook IQ, Qualtrics]
Value-enhancing service interactions increase the likelihood to repurchase by 2.5x, the likelihood to recommend was over 3.3x greater, and the likelihood to increase wallet share was almost 4x greater [Gartner]
Chatbot Integration is Key
Chatbots have become an essential cog of effective customer care, and are used across various industries. The financial services and insurance sector, information technology, e-commerce and healthcare – all rely on chatbots for resolving customer queries efficiently and cost-effectively. Common customer tasks like transferring funds, checking balances, opening accounts and saving money are all easily automated.
The Bottom Line is
Chatbots will continue to be a growing trend in the future, and businesses and organisations who wish to remain competitive will need to differentiate themselves from their competitors, provide a better customer experience, and have greater conversion rates.
However you choose to integrate into your business, do it with the objective of providing your customers a seamless and consistent customer experience.