WhatsApp Business messaging is a powerful sales and support tool – it is effective and customer-friendly. However, WhatsApp doesn't want to turn the platform into a swamp of spam. So in order to communicate with customers via WhatsApp, Meta have made it compulsory to get customers' consent to receive messages via WhatsApp Business Opt-Ins.
What is a WhatsApp Opt-In
WhatsApp Business Opt-Ins is explicit consent given by users, acknowledging interest in a product or service and authorizing businesses to contact them with further information.
Due to the WhatsApp Business Messaging Policy, businesses using WhatsApp API are limited on when they can send messages to customers.
They have a 24-hour window to respond to customer-initiated messages or session messages.
Outside this window, businesses must use message templates to initiate a conversation.
Why Collect WhatsApp Business Opt-Ins
There are a few reasons to collect WhatsApp Business Opt-Ins, besides ensuring customers consent to receiving your message templates.
Sending unsolicited messages can lead to them blocking you or reporting your account for spam.
Your business quality rating can be lowered by these reports, which may result in your account being rate limited or even suspended.
In some countries, opt-ins are necessary for businesses to comply with privacy laws and regulations.
Opt-in subscribers are more likely to engage with your business.
By obtaining opt-ins, you increase your business' credibility and customer trust.
Best Practices for Obtaining WhatsApp Business Opt-Ins
You can use a few tactics to introduce the WhatsApp opt-in to your customers, but opt-ins need to be optional – and you have to provide customers the ability to opt out. For example, you can't compel customers to opt in, in order to complete their purchase.
Businesses must follow specific rules when obtaining opt-ins from their customers. Businesses must clearly state the business name so customers know who they're opting to receive messages from.
Businesses must also confirm a customer is opting in to receive messages via WhatsApp. If they opt-in for messages only via other channels, you cannot send them messages over WhatsApp.
Be clear about the types of messages you'll send, such as order updates, relevant offers, newsletters and product recommendations.
Give your customers a way to select what they want to opt in to via a list of message types or different prompts or messages.
Monitor your quality rating, especially when rolling out new opt-in methods. If your WhatsApp quality rating drops after a new opt-in method, it's possible customers didn't understand what they signed up for.
Use this feedback to tweak opt-in requests, by using simpler language, larger fonts or different colours.
Opt-ins are not permission to spam customers. WhatsApp takes spam seriously and can suspend your business for such activities.
How to Get WhatsApp Opt-In
As long as the opt-in method meets the WhatsApp Business Messaging Policy, it will be compliant. Then you just have to ensure it is super easy for your customers to show their consent wherever they choose to do so!
1. On your website
Your website is a powerful channel to obtain WhatsApp Opt-ins. You can have a pop-up on the homepage, a banner at the bottom of pages, or even set up a dedicated landing page to request consent to receive messages from your business on WhatsApp. You can also have CTA notifications set up in strategic website locations.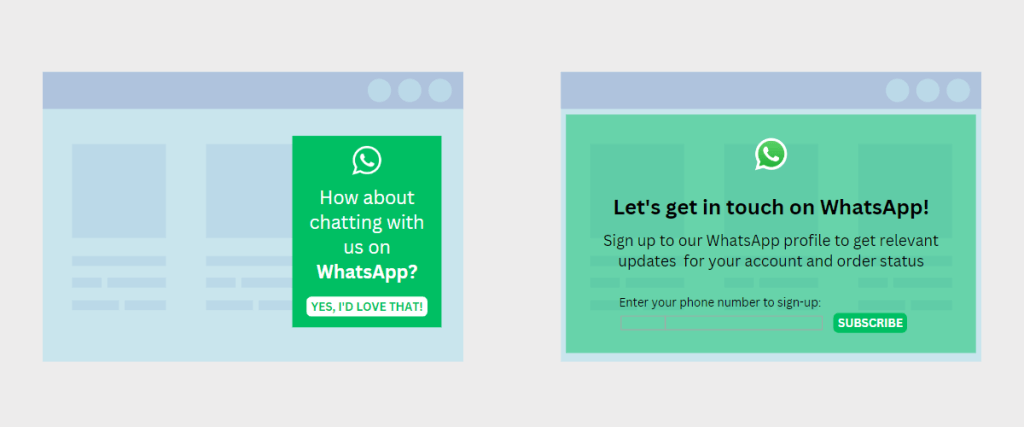 2. WhatsApp Tools like Click-to-Chat Ads
You can run WhatsApp click-to-chat ads for customers to chat with your business. During or after the conversation, you can ask if they would like to opt in to receiving future messages from your business.
3. QR code
You can drive Opt-ins on WhatsApp by adding WhatsApp QR Codes to your retail stores, or at an event. You can add a message like "Want to stay in touch with us on WhatsApp? Scan this QR code".
4. Leverage Existing Channels
A great way to get the word to your customers is by leveraging the communication channels you already know and use. Ask people to opt-in via SMS, website chatbot, email, or social media.
5. In a WhatsApp thread (customer-initiated message)
This is probably the easiest way to get opt-ins! Your customer has already shown willingness to reaching out to you on your WhatsApp line.
6. Use Existing Conversations and Process Flows
Consider opt-ins during a customers' journey through existing system processes. Companies could prompt an opt-in during the booking process – one of the best places to ask people to opt in is during checkout.
Asking for WhatsApp opt-in can be a bit tricky, but the secret is actually to keep it clean and simple. Just ensure the user experience remains your highest priority and keep things transparent.
Related Reading: